Choose your uniform!
We have a small quantity of Donkey Slayer shirts. They have our logo on the front, and the web site address on the back. If you're interested in purchasing a shirt at the prices listed below, contact us at
info@donkeyslayer.com
.
These shirts are silk-screened locally in Boulder Colorado by
Apollo Ink
.
We offer these shirts in Small, Medium, Large, and X-Large.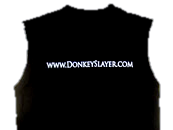 Cotton/Poly Blend Tank Top
Want to show off those tats? This 50% cotton, 50% polyester tank-top will let you show off those bad boys in all their glory.
$15
per shirt.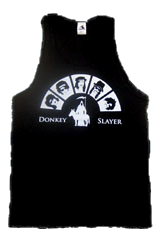 Technical Muscle
Been working out? Endeavoring on a sweaty task? This is the shirt for you, 80% polyester, 20% spandex.
$20
per shirt.